Ramon Pages Duhalt
Founder of the family-owned Metal Finishing industry.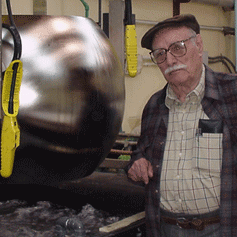 It was my father, Jean Antoine Pagés Favier who introduced me to the world of metal finishing. At the start of the XX Century my father, from French origin, came to Mexico to work for a French company called Sociedad de Afinadores de Metales (Metal Finishers Society) a company dedicated to the refinement of precious metals, mainly gold and silver.
In 1914, when World War I began, my father along with his French colleagues, had to leave Mexico in order to serve their country with their military service. Once the war was over, my father went back to Mexico and after a few attempts he once again found work in a company where he had once worked before, a metal refinery where he later became manager. He was in charge of returning pure metals after being combined and contaminated, by separating them through chemical processes and electrolytic baths.
I used to go with my father to work, and slowly through time I started getting involved. As a young man I decided to study Chemical Engineering at the UNAM (National Autonomous University of Mexico) where I found my passion for metals and their unlimited capabilities.
During my career, I found subjects related to electro chemicals fascinating, maybe because that's what I learned from my father. During that time I worked my night shifts in the refinery, where I had the opportunity to learn electrodeposition, smelting systems and electroplating in general.
In 1940 at the age of 20 I started my own small business in my parent's chicken farm, where I worked during the day while still working my night shifts in the refinery. My first electroplating work at my shop was to brass and copper finish padlock cases. When I turned my finished work to my new clients, they started discussing the quality of my work in French, questioning each other if the price was fair given the excellent quality. After their discussion they requested my information in order to send me more tests. "Are you French?" They asked after reviewing my information.
"French no, but my father is," I replied.
"Do you understand French?" They asked a little concerned.
"Yes sir, I do understand."
"So we are screwed," they said with a smile.
"Yes, sir," I replied with the same smile.
And with that we finished our conversation laughing like good old friends. They were Mr. Pinoncelli and Mr. Richaud from the Simplex Company. From that moment on, my great project started and the ball of snow that I have been pushing until today with four of my sons is still growing.
The next 10 years, from my first official shop of more than 200m2 I worked for Sunbeam of México, electroplating electro domestic articles. Afterwards I bought a 6000m2 land in Tlanepantla, México where I inaugurated the second industrial plant called NICRO where today its main client is the automotive industry.
Man Industries, company dedicated to the ventilator and Blender manufacture, has also been our principal client to this day.
Over the years, with our vision and expansion strategy, we inaugurated Ecoplating, our third industrial plant outside the city, in Toluca, where the automotive industry is also our principal client.
Expecting to last another 92 years I am filled with joy on realizing that everything that started as a dream when I was a young entrepreneur has become a never-ending accumulation of success stories and learning for more than three generations.
I thank our Good God because he has let me accomplish my dream along with my 11 children and from the heavens the companionship of my wife.